Firstly I'm sorry I didn't get round to writing a post on Friday but my exciting news is that  my glassware will be available to buy in Quay Presents, down on the Quay in Exeter, very soon.
I'm so pleased to have found another outlet quite quickly after Exetra closed. My space in the shop will be fully stocked from Friday 14th Sep onwards. It is a little scary as the not minimal rent needs to be covered but hopefully I will sell enough to pay the rent and have some left over! The shop has some lovely things, so if you are ever in Exeter do take a look.
While you are down at the Quay I'd also recommend taking a look at Custom House. This has fabulous ceilings, a beautiful building in general and is now open every day because the shop Chandni Chowk is based there.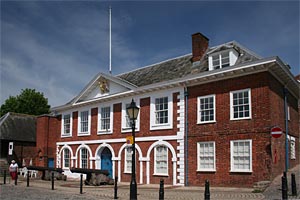 This progress means I have been busy sorting stock, painting new things etc. I also had a pet portrait commission to do and this ties in with my title, in case you were wondering! Here is the completed Alsatian on a coaster, waiting to be baked, which is tomorrows job.

Continuing with the dog theme I thought I'd pick out a selection of dogs from other crafters, just click on the photos to go to their shop.